Japanese crochet patterns, a recent  and happy discovery. One might think this is problematic, because of the language in which these are written. But the patterns are written in chart form ie there are symbols for each stitch to make a diagram of the finished article. If your Japanese is non-existent like mine, these chart patterns are great, there's no language barrier to understanding them. I first encountered charts in the book  100 Flowers to Knit and Crochet by Lesley Stanfield which everyone seemed to be buying a while back when I began crocheting. Many of the patterns in this are written in both chart and more traditional worded pattern form, (interesting to see the two versions side-by-side) and there is a glossary explaining the symbols used. I've dipped into this book a bit, but to be honest, as I was a novice when I bought this, I felt a little daunted by its intricacies; there was much looking but not much doing. 
Fast forward. to earlier this year, with much hooking under my belt, I feel able to cope with something a bit more challenging. I found a fantastic site called Rakuten, well worth a look, as there are some really lovely patterns to download - I think there must be hundreds of them, from simple motifs to delicate lacy cardigans, and even better, they're free. This is what you get, all nice and simple, a page with a chart and pic of the finished article.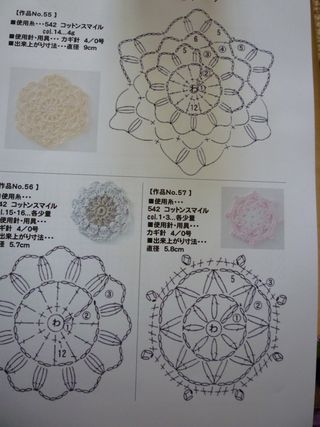 A few people have enquired about the pattern for my mum's flower scarf, and I found that at this site - click here for the link to it.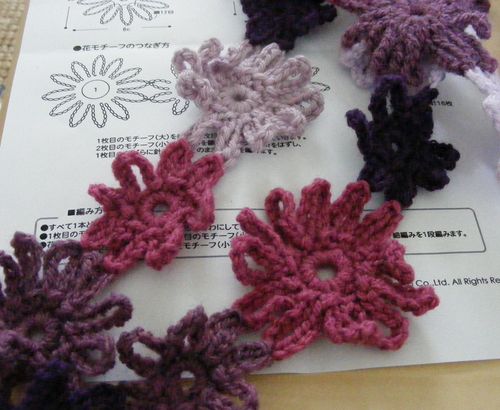 So the next natural progression was to buy a Japanese  book. I've seen some beautiful ones at various blogs I like reading, and had a tremendous attack of the 'wanties'! I did some clicking and purchasing on Ebay a couple of weeks ago (at this lovely Ebay store)  and a few days ago a parcel plopped on the doormat containing this.
The demon wanties have been calmed! What a treat inside, it's beautifully photographed and 'styled' as they say, and there are some very appealing designs, with lots of food for thought.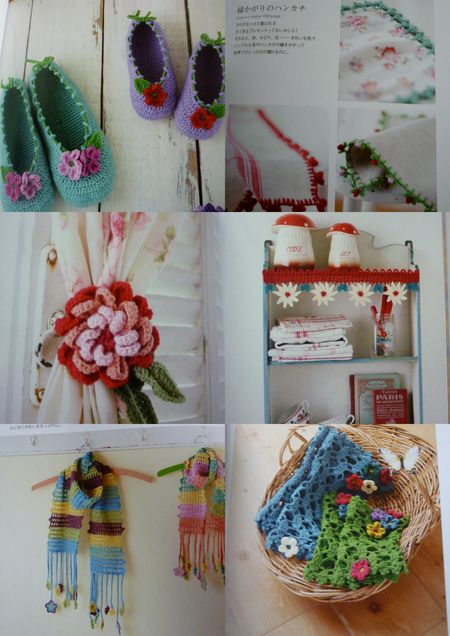 I particularly liked this design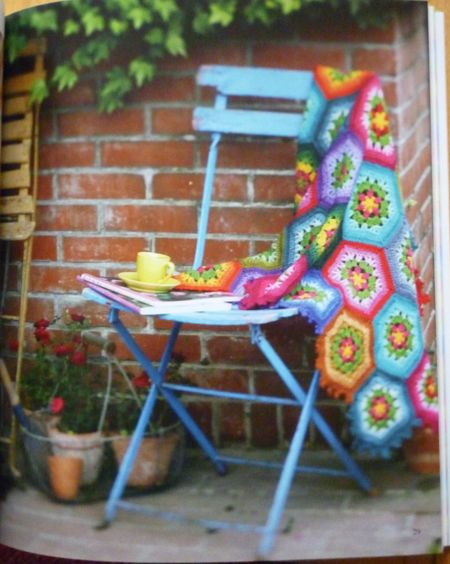 Here's my version.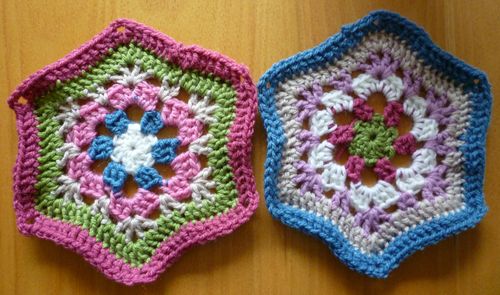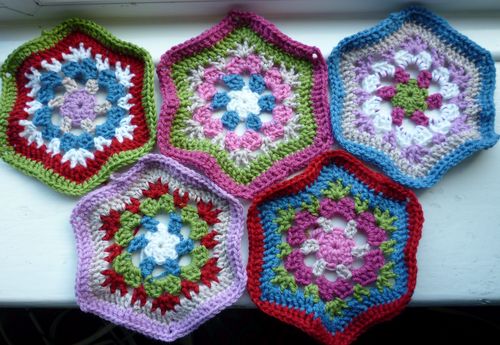 Cushion or blanket, I'm not sure yet, watch this space!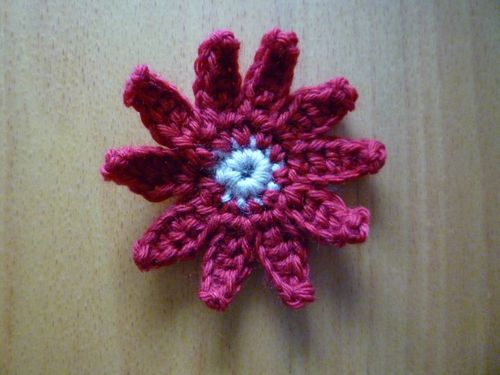 It really has added another dimension to my crochet knowledge finding these patterns and learning to read charts. The fact that they are totally visual has improved my ability to look at a picture of something crocheted, work out what stitches were used and try to devise a pattern myself.  And when using a chart, it's great to think it's possible to translate the characters and symbols into something pretty and colourful. A whole new world of projects to make and enjoy!