More African flowers on the go lately, I like this pattern a lot as the possibilities of colour combinations are endless and delightful. I usually favour what I'd call cool colours ie not too bright, but I thought I should get out of my comfort zone and spice it up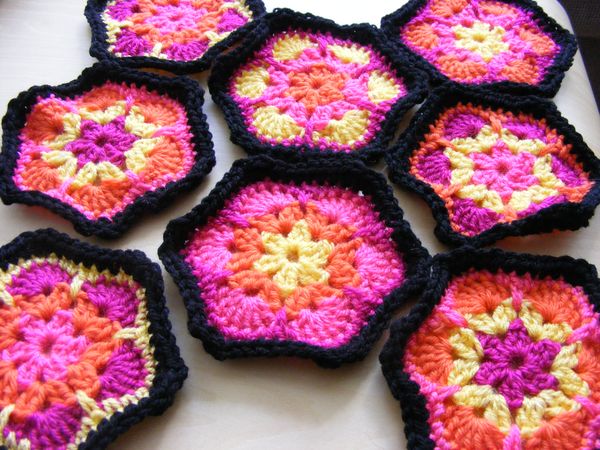 I bought these vividly coloured yarns when I visited Liverpool in this fantastic Aladdin's cave of a shop, well worth visiting if you are in Merseyside or North Wales, or you can order online too. I really couldn't decide if they worked or if I was completely mad to try pink, yellow and orange together. but I'm glad now that I went against my instinct. It is bright and summery and the black edging brings it all together IMO.
Just for a cooler contrast, I made some in a different colour mood; there is a bright pink along with pale pink, turquoise/green and white, again edged with black.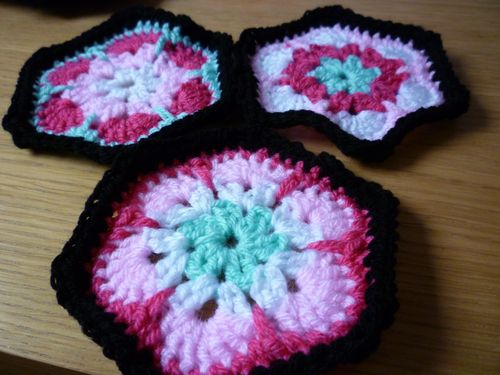 Although the green and bright pink are pretty vivid on their own, the combination with the 2 paler shades gives a more spring like palette.
I like them both, the first is very uplifting on a wet cold windy day like it is here in Glasgow today, and the second is soothing on a hot sunny day like it was on Tuesday in Glasgow........yep, it's the good old British Summer, feels like Autumn today and a couple of days ago I was roasting myself in the garden!!