I love hunting the internet for all kinds of interesting stuff, particularly of the crochet kind. I found a few great sites, some new and some old and much loved favourites, which I thought you may want to have a look at.
10 for 10 - Sarah London is having a pattern sale, 10 patterns for $10; there are some fab things, including a wonderful Granny Square Sweater, which I'm loving. I think it may go in my queue of things to make!
Sarah is also still hosting the Crochet a Rainbow appeal, originally set up to help the victims of the terrible flooding in Australia and which is now also making blankets for Japan;  if you have time to make even a few sqaures and send them, it will make a big difference to people whose lives have been shattered.
A new find which I'm very happy to have discovered is Tangled,  a fantastic online magazine for knitters and crocheters, with loads of very lovely patterns, with many of them in both a knit and crochet version. Another garment to go in my must-make list is this cardigan, which I'm very taken with, it's beautiful!
The 2nd Annual Knitting and Crochet Blog Week starts tomorrow! Everyone who signs up for it must post daily about a specific topic for each day, it makes for diverse and entertaining reading. I took part last year, but sadly,  I'm just too busy at the moment for this year. But I'm looking forward to catching up with some of this year's posts :-)
Crochet Spot is a great site with lots of stitches and techniques explained with lots of photos and clear written instructions. I've learned a lot of new stitches from here  and I like its friendly vibe.  This week it features how to make chainless foundation rows which sounds like a dream come true to me.
Today has been lovely here in Glasgow, sunny and warm. Perfect for garden crochet!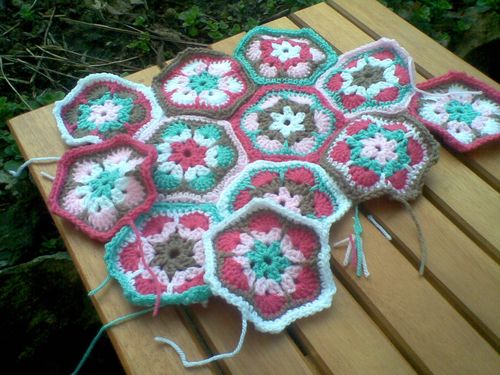 I hope your weekend has been fab!