I know I've been have a purple love affair recently, but I am also very fond of green. After I happily sold my multi-coloured big granny square blanket recently, I decided to make another. When looking through my stash, I found so many balls of wool of just about every shade of green possible, and so the colour scheme of green and white suggested itself to me. I think it's something to do with spring coming :-)  After about 3 weeks of hooking when time has allowed, I have finished.
As you can see there really is a plethora of greenness; mint, leaf, apple, grass, moss, spruce, teal, bottle, lime. There's even a yarn called Highland Burn in there. By my count, there are 14 different shades of green! I like the way the white makes the greens look so vivid, and yet when it's lying on the bed it exudes serenity.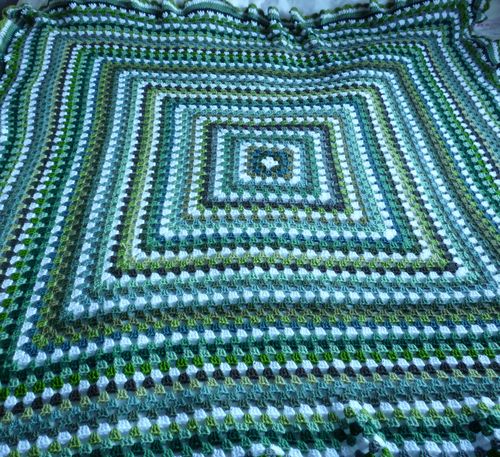 It really struck me how the different tones come out with changes in the light; the 2 photos above, taken yesterday(Saturday) have a blueish green tinge: whereas in the photo below, taken last Thursday, on a sunnier day, the mossy green colours come to the fore.
I finished it off with some rows of half treble in greens and a row of white treble stitches folowed by a final lime green scalloped shell edging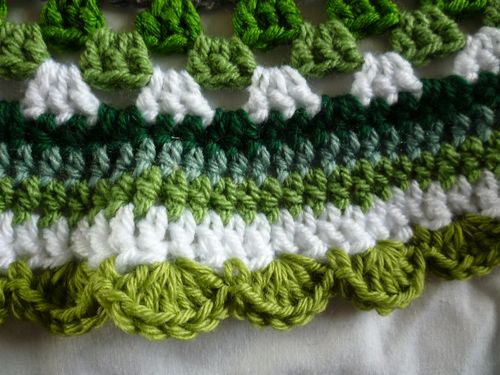 The edging's frilliness wasn't deliberate but I like how it has turned out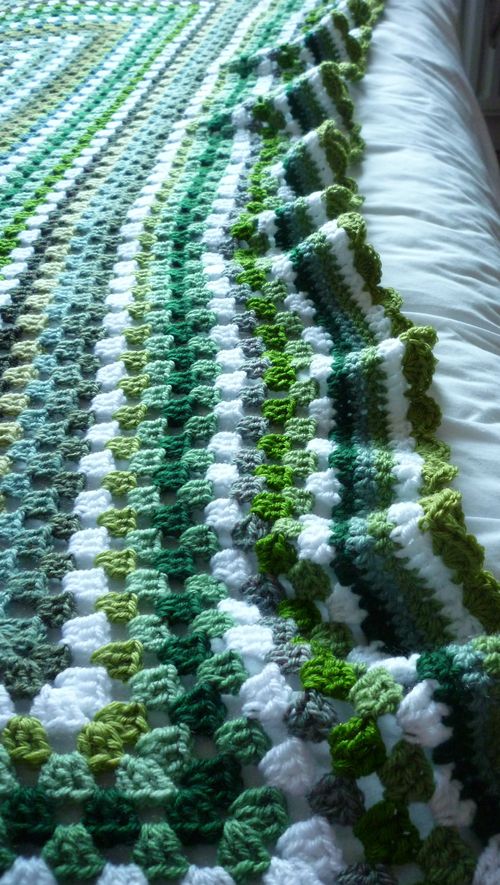 This has been a great stash buster; I obviously had a huge splurge on green wool at some point in the past and had a lot of it. Now it's down to a sensible amount! The yarns I used are all DK  and a mixed bag of wool and wool and acrylic mixture. I wanted the blanket to be machine washable, I can't imagine what a horrendous chore it would be to hand wash something of this size!
So there you have my latest finished project.
 Staying with the green theme, a friend has asked me to crochet him a cardigan. He presented me with a big bag of this gorgeous wool, we chose this pattern which I found in a vintage book
and I am happily hooking away. The wool is beautifully soft, a joy to work with and crochets up well. I think the finished garment will be very cosy and smart.
It's quite a responsibility making something for someone you know and like, so I'm pulling all the stops out to make it look the biz!