You may recall a while back, I was dropping hints like bricks about a mysterious project; possibly a crafty space down at the end of the garden. Things were going well, until the snow started falling, and work had to stop for a while. But thankfully,  once the weather bucked up a bit, we got it done and I'm very happy to report that, barring a little cosmetic tweaking, I now have a little studio!!!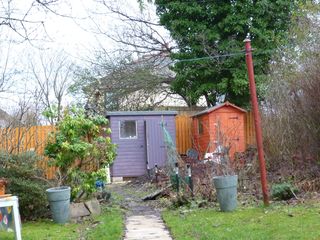 Would you like to come and take a look inside?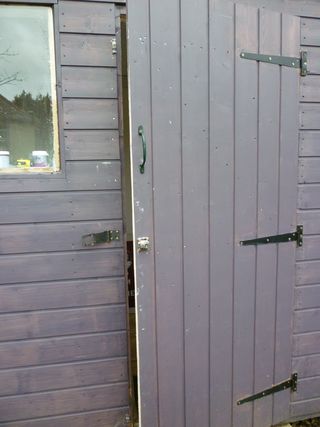 It started out as a humble garden shed, but it has been made lovely outside and in - lined, painted and floored, so it looks like.......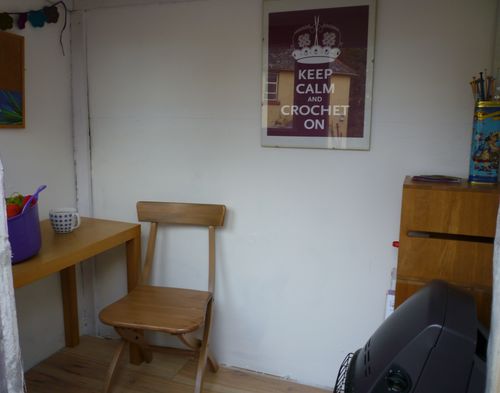 this! 
I have a nice new comfy chair to park myself on, next to my 'Keep Calm and Crochet on' poster, a table/desk, some crochet adornments and a cork board for inspiring images and so on.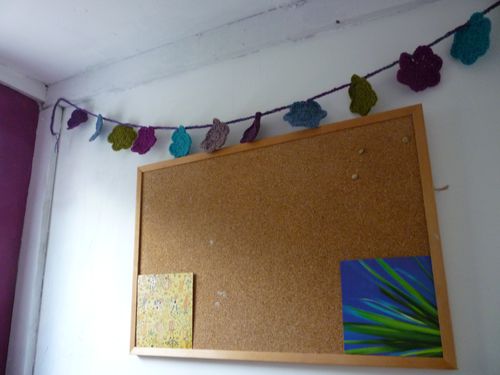 Plenty of space to be filled up, I'll show you again when there is more to see.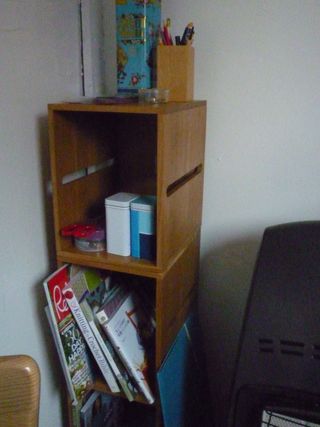 This corner bookcase is made using 3 storage boxes from IKEA which I bought a couple of years ago. I glued them together with wood adhesive and hey presto, a neat little shelving unit for my books and bits and bobs, perfect for this petite space.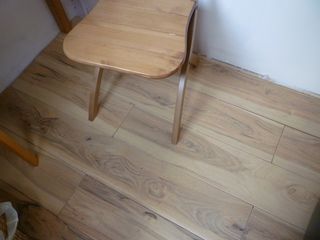 I can't believe I am posting a photo of the floor but it's so good I feel compelled to!
I can look out of the fairylighted window at the garden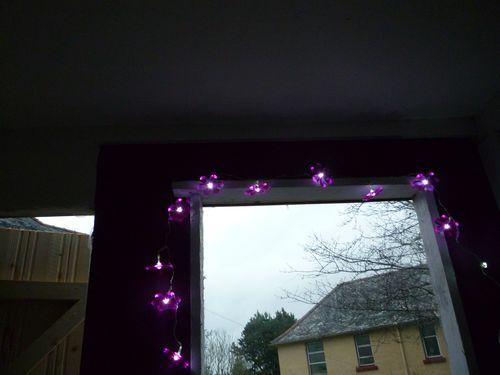 while I get busy with the hook.......this is my  inaugural row of stitches!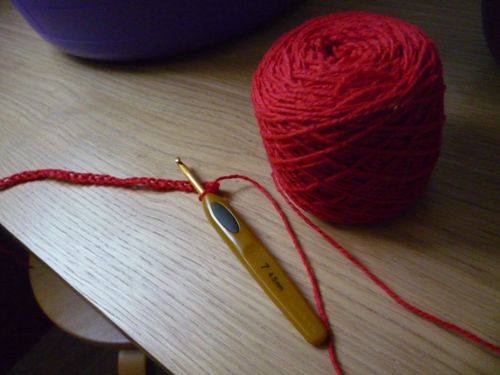 And now I'm ready for many happy hours of craftiness
It's the next best thing to being out in the garden, and if I have the door ajar, I can hear all the sounds and smell the outdoor aromas as if I was sitting out in the open air, except that I am snug in my cosy space.
It's taken quite a while to get this little dream finished; cold weather does not love plaster and paint and there have been quite a few times recently when I've found the paint frozen solid in the tin!  Kind family and friends have given me lots of things, most notably the heater and the flooring  and helped me do a lot of the hard work, so I owe them a huge and heart-felt thank you. 
 I can't quite believe it has finally happened but when I look out of the window, I can see the fruits of a lot of scrimping and saving  and much hard graft. It has been well worth the wait too......I love my little shedstudio  :-)