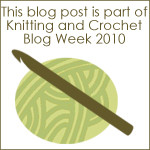 Revisit a past F/O
Bring the fortune and life of a past finished project up to the present. Document the current state and use of an object you have knitted or crocheted, whether it is the hat your sister wears to school almost every day, or a pair of socks you wore until they were full of hole. Or maybe that jumper that your did just didn't like that much. 
Better late than never, this should have been yesterday's post!  Here is my first granny square cushion, sitting in splendid isolation on the sofa(now it has some colourful friends!) just after I finished it.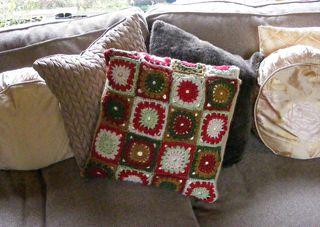 I love the colours, perhaps the finishing off is a bit untidy, but I'm still proud that I made this only a month after learning to crochet. Here it is today.
I wanted to say how much I have enjoyed taking part in the Knitting and Crochet Blog Week and a big thank you to Eskimimi for bringing everyone together. It has taken me to visit many new blogs and make some new friends, and it's been interesting to think about my love for making things with wool in the medium of crochet, and my youthful attempts to knit. Blog traffic has greatly increased, and I hope all my new readers will come back to visit again soon, everyone is most welcome!